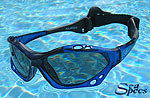 Sunglasses for Surfing - 'Sea Specs'
SKU 00316
Product Details
Sunglasses for surfing by 'Sea Specs'. Best value surfers sunglasses on the market. My go to everyday must have product for teaching surfing and great for early morning and arvo surfs when westerly sun in your eyes !!
Limited stock available please check , can order in ;
Black , or Brown or Blue frame with polarised lenses (black/grey)
Note the holes in frame which allows water to escape, no fogging.
These are the best value for money surfing sunglasses ive found and serve me well teaching surfing most days. These are a necessity for early morning sessions especially for people with light colour eyes.
Also Available in Black, Red, White, Copper orange, Yellow, Tortoise shell brown
Save this product for later